Officer Jobe Dickinson
Tucson Police Department
Officer Jobe Dickinson was dispatched to a report of an armed robbery and observed a vehicle that was believed to be involved in three other robbery incidents that occurred earlier in the night. After evading Officer Dickinson, the suspect collided with two other vehicles at an intersection.
Dickinson immediately responded to the area to assist at the scene and as he approached, saw four male occupants fleeing their vehicle. One of the suspects attempted to carjack another vehicle to make his escape. Officer Dickinson initiated a foot pursuit and coordinated the response of several other patrol units, capturing that suspect before he could victimize any other citizens.
Ultimately, three of the four suspects were captured that evening and the fourth was identified and captured on a later date. In addition, several items of evidence were recovered; including money that was taken in at least one robbery as well as weapons and clothing that were used during the other robberies.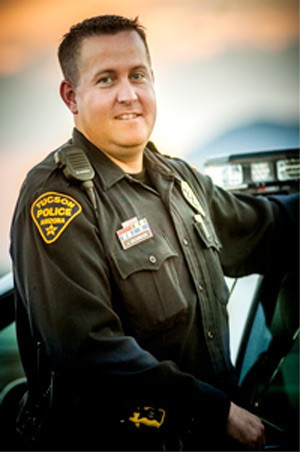 Sign up and receive important
Heroes Day news and updates.