Agent Roberto Heredia
U.S. Border Patrol
Agent Roberto Heredia was involved in rescue which began with an alien arrest. The detainee reported that a companion was left near the Atascosa Mountains near Nogales, Arizona. The companion was suffering from heat related distress and was unable to walk.
Due to the extreme heat and treacherous terrain, the suspect was unwilling to lead agents to the location of the other alien. After an unsuccessful helicopter search, Heredia persisted and hiked up the mountains on one of the hottest days recorded in 2011. After a few hours, Heredia heard faint cries for help and notified a search crew.
With nowhere to land a helicopter, Heredia provided aid and carried the semi-conscious and combative alien back through the rugged terrain. His brave actions saved the victim's life and Heredia proved to be an exemplary agent and leader.
Dickinson immediately responded to the area to assist at the scene and as he approached, saw four male occupants fleeing their vehicle. One of the suspects attempted to carjack another vehicle to make his escape. Officer Dickinson initiated a foot pursuit and coordinated the response of several other patrol units, capturing that suspect before he could victimize any other citizens.
Ultimately, three of the four suspects were captured that evening and the fourth was identified and captured on a later date. In addition, several items of evidence were recovered; including money that was taken in at least one robbery as well as weapons and clothing that were used during the other robberies.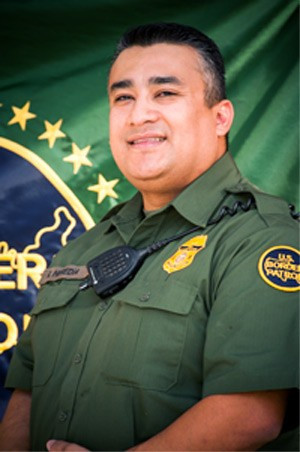 Sign up and receive important
Heroes Day news and updates.